Jewelry and Enamels
We offer custom-made enamels (especially as SCA Order medallions) and ancient or medieval pin forms. Send Susan an e-mail to discuss your ideas.

Several enamelled SCA awards are now available in our Shop.

Also, we are now selling on Etsy. Please visit our Etsy Shop.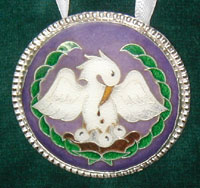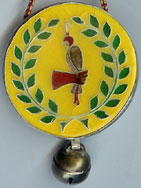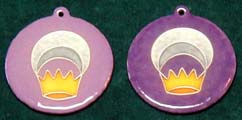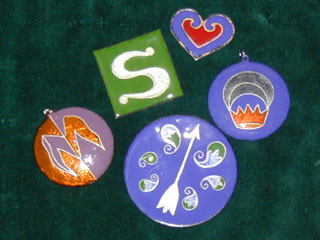 Enamels
Top Row: SCA Laurel & Pelican combination medallion, SCA Laurel medallion for a falconer; both are set in sterling silver.
Second Row: SCA Laurel medallion, East Kingdom Maunche medallion and East Kingdom Silver Crescent medallion.
Third Row: More Silver Crescent medallions on various background colors.
Bottom Row, clockwise: Maunche, initial "S", Pictish heart, Silver Crescent, and SCA "Ludicrous Bowman" badge.
All (except the heart) are cloisonné enamel done with fine silver wire on a copper base. Most require at least twelve firings in a kiln to build up the layers of colored glass.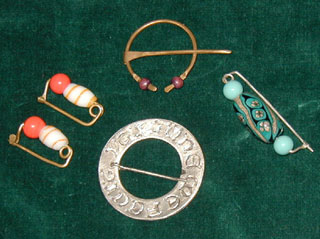 Pins
Clockwise from left: Bronze fibulae with vintage beads, bronze penannular brooch with wood beads, silver fibula with lampwork bead (made by Rebecca Voris) and annular brooch of nickel silver.
Here's What We Are Currently Offering on Etsy: