Archery: Port Orford Cedar Arrow Shafting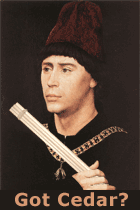 We buy premium quality factory-spined 5/16" straight shafts by the thousand, then spine and weigh them by hand. The result is tightly matched sets in 1 or 2 pound spine groups, weighing +/- 5 grains!

Tired of buying hundreds of shafts to get the 1 or 2 dozen matching ones you need? Buy our matched sets instead.

If you need help identifying what spine poundage you need for your type of shooting, please contact us and Richie can crunch the numbers.

Note: We specialize in shafts for traditional target shooting with light poundage bows, especially by SCA lady and youth champions!

Prices: *
$30.00 per dozen for under 30#
$36.00 per dozen for 30# and stiffer

To order cedar, please get in touch with us by e-mail and tell us what you're looking for (spine weight and quantity) so we can check our inventory and calculate your total. We ship to U.S. addresses only, using USPS Priority (unless you request otherwise). Massachusetts customers must pay 6.25% MA Sales Tax.
Like our ad? Want it on a t-shirt or something?
Check out our Cafe Press store!






* In June of 2014, we had to raise our price per dozen to $36 on shafts spined 30# and up. Shafts under 30# remain at $30 per dozen. We held our old price since 2006, through several cost increases.

In addition to the annual increases in the cost of cedar from our manufacturer (Rose City), the Federal Excise Tax (FET) is now 48 cents per shaft! Low-spined shafts are not subject to the FET as they are not considered "hunting" equipment. The FET is prepaid by us and included in our pricing structure.

We are proud that our price is still well below what all our competitors charge for shafts that are only factory spined and are not weight-matched at all. We consider this attention to detail as our service to the traditional archery community.