Custom Enamel Pieces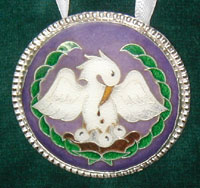 Custom commissioned work is eagerly welcomed!


Get in touch by e-mail to describe what you have in mind and we can work out the design together. Most work can be done with about 1 month of lead time.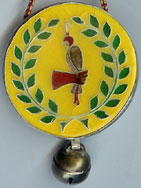 Peerage badges, personal heraldry and household badges can be created in cloisonne enamel as pins or pendants or plaques to be sewn onto cloaks or other garments. They can be designed to match a persona time period and culture.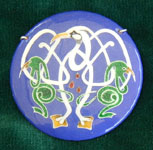 Shown on this page are some examples of such pieces, to give you an idea of what is possible.

Pricing depends upon the complexity of the design and setting, and the setting materials used.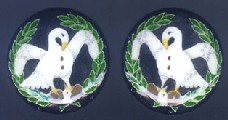 Pricing examples:
The Pelican/Laurel pendant shown was $300; the setting is sterling silver and it has a pin-back for extra security or for wearing as a pin. (2" dome.)
The Anglo-Saxon Pelican pin was $300. The pelican was based on a design by Duchess Roxane; just shaping the wires took about 7 hours! (2.5" dome.)
The Laurel pin with personal Arms was $150. (2" dome.)
The Ludicrous Bowman pendant was $180; the setting is sterling silver. (2.25" flat.)
The pair of stitch-on Romanesque-styled Pelican/Laurel cloak plaques shown was $400. (2" domes.)