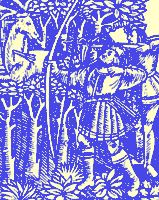 Upcoming:
Aug 22 to Aug 24
End of Summer Medieval Fair
Sep 05 to Sep 07
Funeral Games of John Barleycorn
Oct 31 to Nov 02
Ghost, Ghouls, & Goblins

See Events Page for
more info!
Greetings!
The Carolingian Company of Bowmen is a sub-set of the
archers of the Barony of Carolingia. There are many people
who do archery in Carolingia; some of them qualify and have
decided to join the Company.
The Company of Bowmen runs archery activities in the
Barony which are open to all who are interested in participating.
If you are an active archer in Carolingia and would like to
join the Company of Bowmen, please get in touch with the
Company Captain. (Please see the Contacts page.)
Join our Yahoo e-mail list for discussions and
announcements: Carolingia-Archers